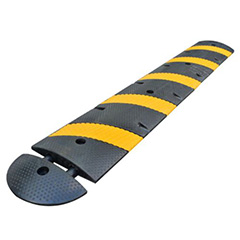 6″ Economy Recycled Rubber Speed Bump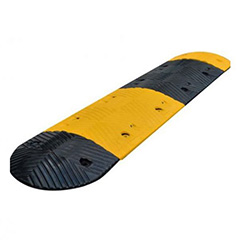 Premium Ruber Safety Stripped Speed Hump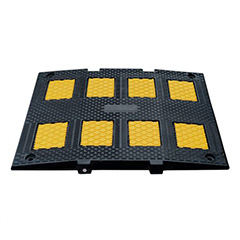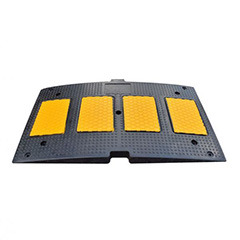 Speed bumps and humps are effective in reducing speeds. Relatively low cost and can be installed on most residential streets without the loss of parking. Relatively easy for bicyclists to cross if designed correctly.
Speed bumps and humps are legal for authorized use on public roads and any other area where they might be needed to increase safety. Reflective yellow stripes for high-visibility at night and in bad weather are part of its DNA creating a very high quality product that really works for safety wherever it is installed.
Speed bumps/humps/lumps are a raised section of roadway, perpendicular to the curb line and meant to slow traffic.
Speed bumps and humps are made to slow down traffic to 10-15 mph and are ideal for parks, school zones, hospitals, and retirement communities.
Their modular units lock together, creating a uniform surface fit to the road's width.
There's no better way to keep the road safe than allowing speed bumps and humps do their work by keeping the vehicles speed slow and safe for pedestrians to cross. Want to meet this product? Call now to our Sales Department and you'll be happily attended by one of our Representatives.
Speed Bumps and humps have great benefits such as:
Improve pedestrian safety
Reinforce stop signs in parking lots
Reduce the risk of accidents on private residential streets, driveways and parking lots
Made with high quality EPDM rubber compound, 25% recycled rubber content.
Free hardware included for asphalt or concrete installation.
Molded-in cat eye reflectors and bright yellow EPDM rubber offer hight visibility.
Slows vehicles to 5 MPH.
Speed bump system comes in 6 foot, 7 ft., 12 ft., 19 ft., and 25 ft. sizes.
Easy to install, easy removal for storage or relocation.
Great quality durable rubber construction with yellow safety strips that will not fade.
Non-skid surface.
Durable bright yellow embedded EPDM rubber strip.
Speed bumps and speed humps are vertical obstacles used in traffic management. They are the most used structural traffic calming elements. They can be made from asphalt, concrete, plastic, rubber, or metal.
| SKU | Description | Length | Height | Width | Weight |
| --- | --- | --- | --- | --- | --- |
| SB206FT | 6 Ft Speed Bump (1) 6′ Section With no End Caps | 72″ | 2″ | 12″ | 48.40 |
| SB207FT | 7 Ft Speed Bump (1) 6′ Section + (2) End Caps | 86″ | 2″ | 12″ | 55.40 |
| SB213FT | Single Lane 12 Ft Speed Bump (2) 6′ Section With no End Caps | 144″ | 2″ | 12″ | 96.80 |
| SB219FT | Double lane 19 Ft Speed Bump (3) 6′ Section + (2) End Caps | 230″ | 2″ | 12″ | 152.20 |
| SB225FT | 25 Ft Speed Bump (4) 6′ Section + (2) End Caps | 302″ | 2″ | 12″ | 200.60 |
| SB2ECAP | End cap | 7″ | 2″ | 12″ | 3.50 |
| SKU | Description | Length | Height | Width | Weight |
| --- | --- | --- | --- | --- | --- |
| SB3039I | 39″ Speed Bump (1) 39″ Section With no End Caps | 39″ | 2″ | 13.7″ | 36.20 |
| SB3117I | 117″ Single Lane Speed Bump (3) 39″ Sections With no End Caps | 117″ | 2″ | 13.7″ | 108.60 |
| SB3137I | 137″ Single Lane Speed Bump (3) 39″ Sections + (2) End Caps | 137″ | 2″ | 13.7″ | 124.20 |
| SB3234I | 234″ Double lane Speed Bump (6) 39″ Sections With no End Caps | 234″ | 2″ | 13.7″ | 217.20 |
| SB3254I-2 | 254″ Double Lane Speed Bump (6) 39″ Sections + (2) End Caps | 254″ | 2″ | 13.7″ | 232.80 |
| SB3ECAP-2 | End cap | 10″ | 2″ | 13.7″ | 7.80 |
| SKU | Description | Length | Height | Width | Weight |
| --- | --- | --- | --- | --- | --- |
| SH1018I | 18.75″ Speed Bump (1) 18.75″ Section with no End Caps | 18.75″ | 1.25″ | 2″ | 22.20 |
| SH1112I | 112.5″ Single Lane Speed Bump (6) 18.75″ Sections with no End Caps | 112.5″ | 1.25″ | 2″ | 133.20 |
| SH1128I | 10 Ft Single Lane Speed Bump (6) 18.75″ Sections + (2) End Caps | 128.5″ | 1.25″ | 2″ | 148.80 |
| SH1225I | 225″ Double Lane Speed Bump (12) 18.75″ Sections with no End Caps | 225″ | 1.25″ | 2″ | 266.40 |
| SH1241I | 20 Ft Double Lane Speed Bump (12) 18.75″ Sections + (2) End Caps | 241″ | 1.25″ | 2″ | 282.00 |
| SH2ECAL | LEFT End cap | 8″ | 1.25″ | 2″ | 7.80 |
| SH2ECAR | RIGHT End cap | 8″ | 1.25″ | 2″ | 7.80 |
| SKU | Description | Length | Height | Width | Weight |
| --- | --- | --- | --- | --- | --- |
| SH2019I | 19.75″ Speed Bump (1) 19.75″ Section With no End Caps | 19.75″ | 2″ | 3″ | 48.00 |
| SH2121I | 10 Ft Single Lane Speed Bump (5) 19.75″ Sections + (2) End Caps | 121.75″ | 2″ | 3″ | 273.00 |
| SH2240I | 20 Ft Double Lane Speed Bump (11) 19.75″ + (2) End Caps | 240″ | 2″ | 3″ | 561.00 |
| SH2ECAL | LEFT End cap | 11.5″ | 2″ | 3″ | 16.00 |
| SH2ECAR | RIGHT End cap | 11.5″ | 2″ | 3″ | 16.00 |